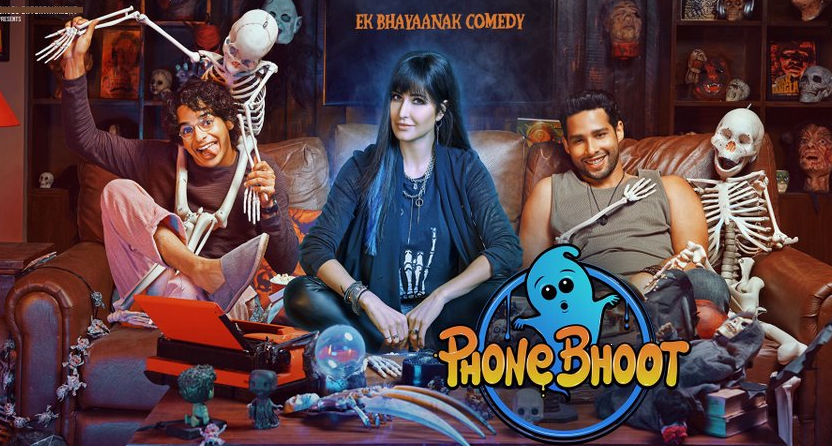 A Bhayanak Bhoot
A fun laugh out Meme Fest for the Internet Gen Z
Bollywood's fixation with the Horror – Comedy genre continues with Gurnmeet Singh's Phone Booth. One would think that films are made for the audience, but it's the makers who seem to have had the most fun, making this intentionally silly film.
Even in the black and white era the Horror- Comedy genre produced a notable film like 'Bhoot Bangla' which had the cult classic catchy song 'Aao Twist Karein'.
After that it was sparingly used, at least not well till films like Stree, Bhool Bhulaiya 2, Go Goa Gone came on the scene and Bhediya is ofcourse waiting in the wings.
Though all these films had a great origin story plus a fable or lore attached to it. This is where Phone Booth differs. It looks like GhostBusters, but it's more like a spin off of the stoner comedy 'Dude Where's My Car?' with the feel of the cult comedy 'Andaz Apna Apna'.
The main plotline has Gullu and Major, horror enthusiasts and best friends played by Ishan Khattar and Siddhant Chaturvedi. These two losers end up meeting Ragini, a friendly intelligent ghost who helps them to start a business of being Desi BhootBusters.
The film doesn't take itself too seriously and is nonsensical with awareness and purpose. For the most part it's really funny with its one-liner jokes, pop culture and showbiz references. An absolute treat for those obsessed with memes and the internet culture. In Fact this comedy of errors even pays a tribute to the old '80s Ramsay Horror Films in its introduction which is absolutely hilarious and great writing.
The second half takes an unexpected turn when they're faced with the evil, Aatmaram (played by Jackie Shroff). It is revealed that Katrina is only helping the boys to avenge her and her beau's death but the drama and emotional connect is just not there. This is what makes the climax suffer too. As it is quite predictable and does well as a comedy of errors but without any horrors.
In the technical department, The VFX and look of the film goes well with the film landscape it wants to create. The props and world of gore is well etched out.
Dialogues like Astra hai toh Button bhi hoga and the Slice Ad of Katrina among other pop culture references are nicely woven into the writing as well the world of Phone Booth.
The editing is well done but could have been even sharper. What's most amazing is  the creative choice of already popular background music so well weaved into some scenes to create a world of its own.
The film's original soundtrack is not that great though it's a visual treat to see three good dancers in a single frame dance to 'Kinna Sona'.
Ishaan, Katrina and Siddhant have good chemistry as a team. The boys hold the fort and Ishaan Khattar outdoes everyone with his comic timing. Gullu and Major have amazing chemistry, almost nostalgic of Amar Prem.  Katrina looks pleasant and ethereal and oozes star power.
Jackie Shroff is the right spice in the tale though his character could have been more well etched out and he could have been the real scare twist in the tale. For now he is the Bidu element and the references to his Hero and the Polo Ad are absolutely hilarious.
Sheeba Chaadha's track is really interesting and holds the audience with her presence.
The film had a chance to be a cult Horror-Comedy. Though it does succeed as a unique, absurd, whacky comedy of errors. Instagrammers and Collegeovers are going to be all over this. Definitely worth a watch for some good laughs!!