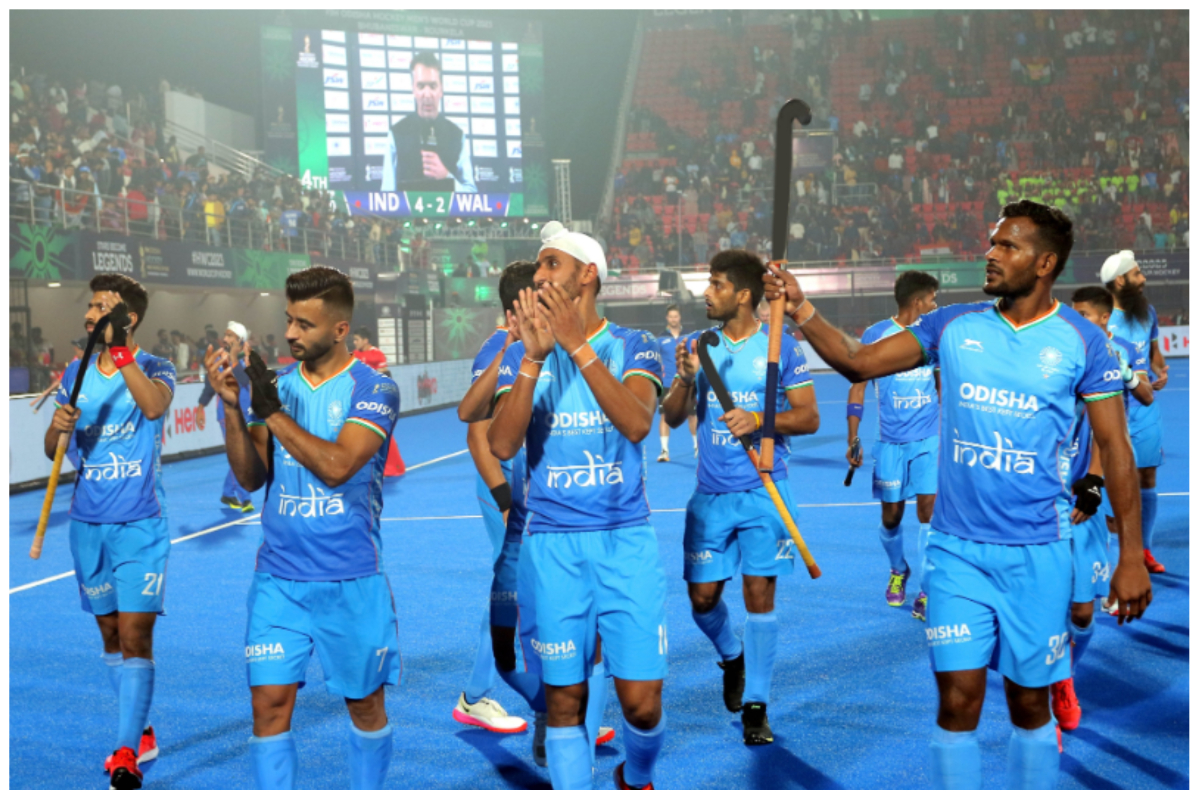 Photo- Hockey India (@TheHockeyIndia)/ Twitter
Hockey World Cup 2023: New Zealand won a penalty corner in the fourth quarter
India was unable to qualify for the Hockey World Cup 2023 quarter-finals, after losing to New Zealand in a shootout 4-5 on Sunday at the Kalinga Stadium in Bhubaneswar
India and New Zealand were tied 3-3 in the shootout as the game entered sudden death, where New Zealand defeated India 5-4 to advance to the quarter-finals.
In the first quarter, both the teams remained tied at 0-0 because the teams could break the other defense. Harmanpreet Singh of India came close to breaking the deadlock in the dying minutes but misjudged it, allowing Simon Child to stop him.
The New Zealand captain was given a two-minute suspension for tackling India's Abhishek in the first quarter. Lalit Kumar Upadhyay gave India the lead in the second quarter with an easy goal in the left corner.
India's Strategy
After Akashdeep gained access to the ball, he passed it to Shamsher, who eventually passed it to Lalit, who made no mistake in the 18th minute. India was awarded a penalty corner, but Lalit missed it this time. Seven minutes later, Sukhjeet Singh doubled India's lead to 2-0.
Harmanpreet Singh attempted to score from a penalty corner, and Sukhjeet reflected the ball off the rebound. Soon after, New Zealand equalized through Sam Lane in the 29th minute. Lane and Child combined before Lane scored near the backline to put India ahead 2-1 at the half.
In the third quarter, India earned another penalty corner, and Varun Kumar scored in the 41st minute. Varun flicked the ball through the legs of New Zealand goalkeeper Dixon to give India a 3-1 lead. The hosts' joy was short-lived, however, as Kane Russell converted a penalty corner to keep New Zealand in the game.
New Zealand won a penalty corner in the fourth quarter, and Sean Findlay found the ball off the rebound in the 50th minute to tie the game at 3-3 with India. Soon after, India was awarded a penalty corner, but the hosts failed to capitalize. Simon Child nearly brought New Zealand home, but India's Pathak saved it by a hair's breadth, forcing the match into a shootout.
Also READ: Indo-Pak Border: Hexacopter hi-tech drones carrying drugs shot down in joint-operation; two accused arrested
In Short
India was defeated by New Zealand in a sudden death match 4-5.
At the end of the game, the score was 3-3.
In the quarter-finals, New Zealand will face Belgium.