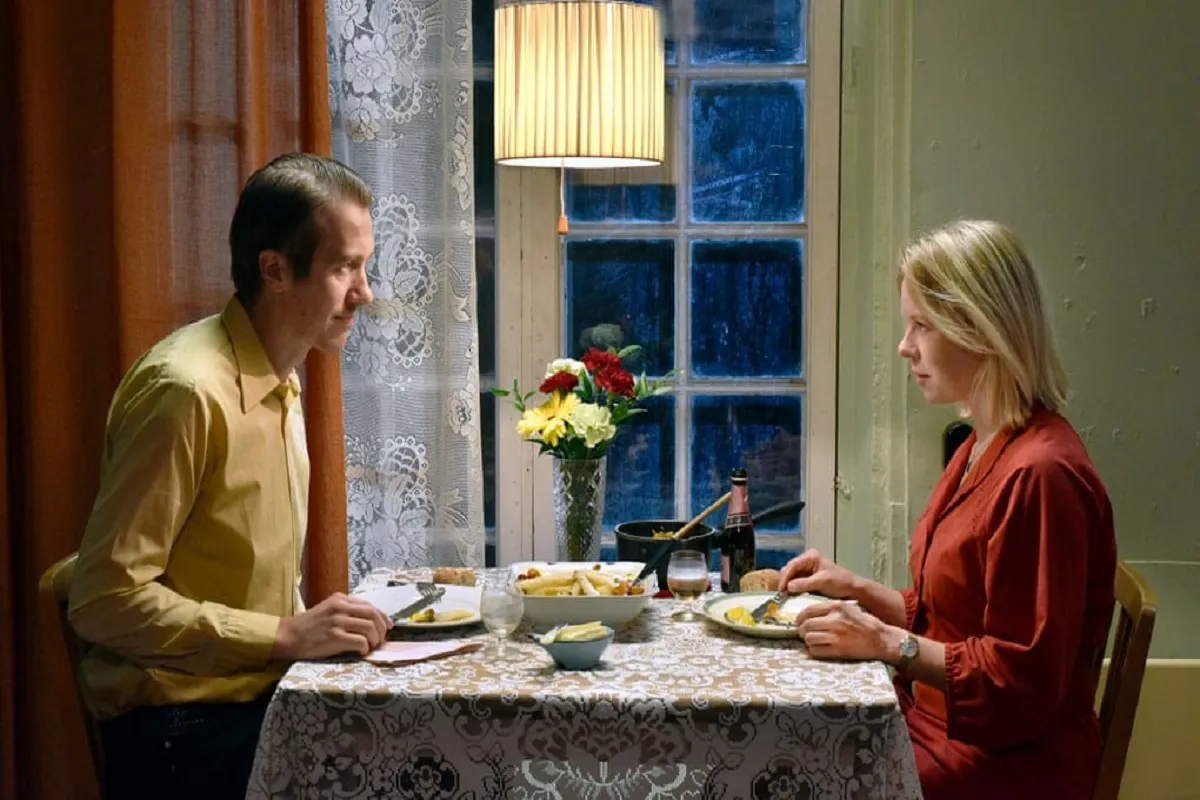 A scene from fallen leaves
Finland's Aki Kaurismäki's film 'Fallen Leaves', shown in the competition section of the 76th Cannes Film Festival, is an unforgettable tale of love, while Turkey's Nuri Bilge Ceylan's 'Dry Grasses' is a photographic celebration of the relationship between man and the seasons.
People in India know Finland for their Nokia phones. It is publicized about Finland that it is the 16th richest country in the world, that it's citizens have all kinds of security, and  is the happiest country in the world. At least that's what Google tells us. There are reports that, after Japan, Finland is the second country in the world with the highest number of suicides. Happiness and suicide are both opposite facts, and how can they be true together?
Fallen Leaves
Aki Kaurismäki's film 'Fallen Leaves' shows us the other side of Finland through a love story amidst the threat of war. Just as filmmakers Hirokazu Kore Ida (Shapelifter) and Bong Joon Ho (Parasite) showed the abject poverty in Asia's richest countries—Japan and South Korea. In 'Fallen Leaves', if it was not for the news of the Russia-Ukraine war on the radio, then looking at the atmosphere, it seems that we have reached the sixties.
However, on April 4, 2023, Finland became a member of NATO despite opposition from Russia. It is also true that Finland is more at risk of war than other NATO member countries—Germany, France, England, or the US—because it borders Russia.
Ansa works in a department store
Ansa works in a department store.  She was fired from her job for bringing home an expired sandwich.  One night at the tram station, she meets a drunken man who was too drunk to move. His name was Holappa. One day, suddenly, they meet again and go to watch a movie together. Jim Jarmusch's Dead Don't Die was playing on the screen. Ansa wrote her number on a piece of paper. After she leaves, while taking out a bottle of liquor from his pocket, the paper on which Ansa's phone number was written falls down. Holappa spends the night in a makeshift shelter. The next day, he frantically searches for Ansa's number, which was lost. He goes to the cinema hall again in the hope of getting a piece. Holappa was repeatedly fired from his job for drinking on duty.
Construction company
One day, when Ansa reaches the bar, she saw the police arresting the bar owner and taking him away.  Now she starts working for a construction company. One day, suddenly, Ansa and Holappa were reunited. Ansa invites him to her house for dinner. It was a simple one-room apartment that her grandmother gave her.
Love has happened
For the first time, she buys sparkling wine and a plate, spoon, knife, and fork. Perhaps for the first time in her life, a guest was going to come to her house. During dinner, Holappa finishes a glass of wine in one gulp. When Ansa goes to the kitchen, he takes out a bottle of wine from his jacket and starts drinking. Ansa saw and said that she can't keep a drunken alcoholic at her place. Days pass, and both start falling in love for each other.
Throws out all the liquor bottles
One morning, Holappa throws out all the liquor bottles from the bag and tells Ansa that he gave upon liquor and wants to meet her. He doesn't even have proper clothes. Borrowing clothes from a friend, he sets out to meet Ansa and got hitted by a speeding vehicle. He was hospitalized  and was in coma. After few days, when Ansa finds out, she goes to the hospital.
The doctor says that if she reads something to Holappa, then maybe he will regain consciousness. Slowly, he starts getting better. A nurse brings her her ex-husband's clothes. In the final scene, we see Holappa walking with Ansa on crutches across a vast field.
The capital of Finland
Through this poignant love story of Ansa and Holappa, living on the last rung of poverty in a rich country like Finland, Aki Kaurismäki shows the darkness of modern European capitalist civilization that often goes unnoticed by us. The camera repeatedly focuses on the drab life of the sediments, apart from the glitter of Helsinki, the capital of Finland. Ansa and Holappa are symbols of homeless, helpless, and jobless humanity around the world. The story behind this happy love story is truly heartwarming.
Veteran Turkish filmmake
Veteran Turkish filmmaker Nuri Bilge Ceylan's film 'Dry Grasses' takes us to the western Anatolia province, where there are only two seasons. One of terrible snowfall and the other of dry grasses, i.e., summer and winter. Similarly, in a village school in the snowy mountainous region, a teacher, Samat, arrives after being transferred from Istanbul.
Fourteen-year-old attractive girl
One day, during class checking, a ruckus was created when a fourteen-year-old attractive girl finds a love letter addressed to Samat in her notebook. There was a departmental inquiry, but no action was taken against anyone. But Samath and Kenan were subjected to terrible humiliation. Both were simultaneously attracted to Nooree, another English teacher.
Invites Samat to her house
One night, she invites Samat to her house. She lives alone. Before they go to bed at night, she asks to turn off the lights. When she takes off her clothes, it was revealed that one of her legs is amputated, and she puts on a prosthetic leg. However, Samat had  sex with her and tells this to Kenan the next morning. Obviously, after this incident, the rainbow of relations between Samat, Kenan, and Nooree starts changing.
Love letter is intercepted
On the other hand, after the love letter was intercepted, a mysterious conflict begins between Samat and his teenage student, Sevin. Nuri Bilge Ceylan has shot snow, water, mountains, grass, a school, a village, and nature like any literary work. Much of the view was like a photographic panorama.
Best Feature Film at the Cannes Film Festival
The screenplay and acting were so effective that when the film of about three and a half hours ends, it was not known. Nuri Bilge Ceylan received the 'Palme d'Or' award for Best Feature Film at the Cannes Film Festival (2014) ten years ago for his film 'Winter Sleep'. This year, his film is also a strong contender for this award.