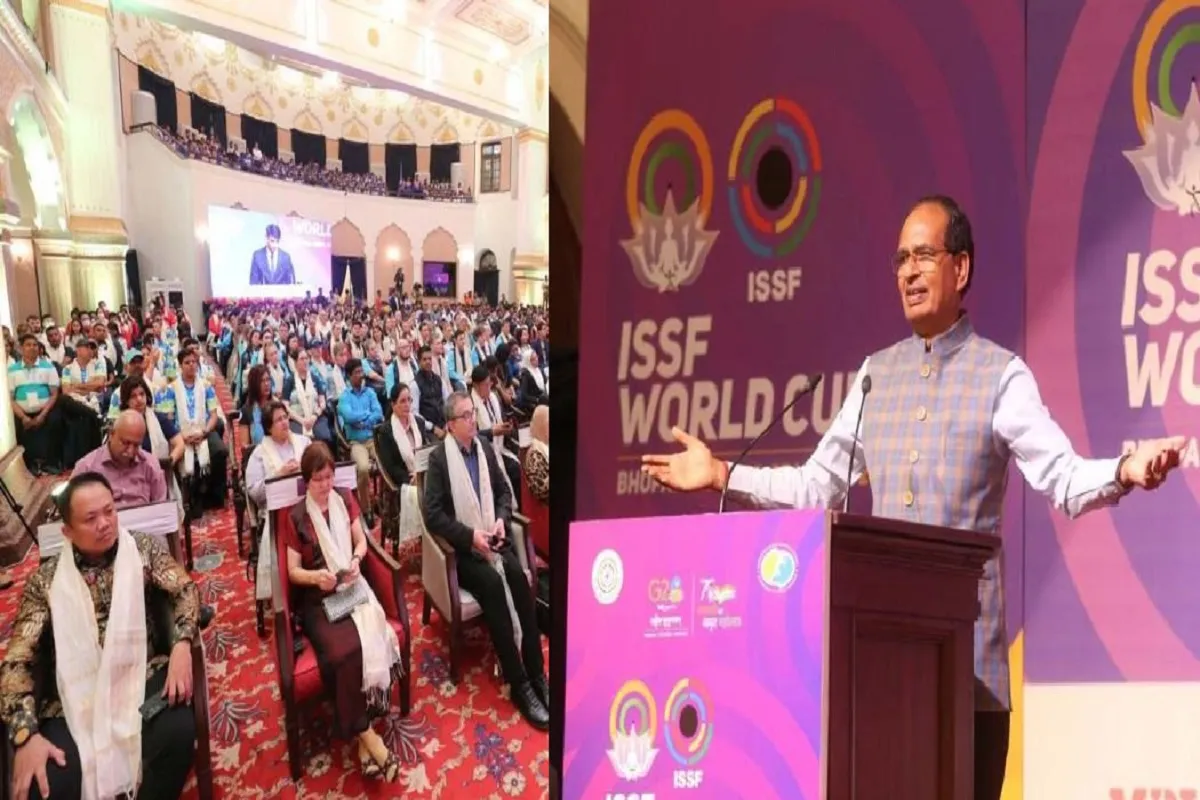 MP CM Shivraj Singh Chouhan
Shivraj Singh Chouhan, Chief Minister of Madhya Pradesh, officially opened the World Cup shooting tournament in Bhopal. The Chief Minister stated that although life is a sport, it cannot exist without sports. Sports are being included in everyday life under the leadership of Prime Minister Narendra Modi.
In the state, he claimed, there is an Anand department, and care is being made to ensure that everyone is content, making Bhopal a center for sports. We'll carry out our promises. There won't be a scarcity of funding for sports.
The Chief Minister was speaking at the World Shooting Competition's opening ceremony at the Kushabhau Thackeray International Convention Center. Chief Minister Chouhan announced the competition's start by pressing the remote button. Additionally, the shooting complex's Bhoomi-Poojan was completed.
According to Chief Minister Chouhan, 'Atithi Devo Bhava' is our nation's tradition. There won't be any inconveniences for any of the players or visitors in India's interior. We are all one, he claimed. The welfare of the planet has a long tradition. I hope everyone is doing well and happy.
What else did CM Shivraj Singh have to say?
Chief Minister Chouhan said, "Playing a game allows for both learning and winning. Sports reduce stress and boost competition, which keeps us happy and healthy". He claimed that sports in Madhya Pradesh are developing quickly. At this point, we are not content and must continue.
Such events, according to CM Shivraj, Offer exceptional players a chance to advance. "You are welcome in the lovely state", he remarked. "Sanchi is well-known worldwide, Bhimbetka is a World Heritage Site, and the lake in Bhopal, the nation's cleanest city, is breathtaking", he added.
Yashodhara Raje Scindia, minister of sports and youth welfare, welcomed the visitors. She claimed, "Narendra Modi, the prime minister, is working hard to encourage sports. Shivraj Singh Chouhan, the state's chief minister, is committed to transforming Bhopal into a major sports center and making the state a top destination for athletes".
According to ISSF President Luciano Rossi, India is a stunning nation. Bhopal's beauty is also distinctive. He praised Chief Minister Chouhan and noted his exceptional support for sports.
Raninder Singh, the president of the NRI, too shared his opinions. The assembly was attended by sports people and dignitaries from both India and overseas, including the leader of the opposition, Govind Singh, and Deepti Gaur Mukherjee, the principal secretary for sports and youth welfare.
Also read: CM Shivraj Singh Chouhan Inspectes Farmers' Hail-Damaged Crops